GENERAL TRADING CONSTRUCTION & LOGISTICS COMPANY
VISA EXPEDITOR SERVICES
TRANSPORT SERVICES
Afghan Compound Support Services
Afghan Compound Support Services is a general trading  Construction & logistics company offering services mainly in construction services,  logistic services, material supply and transport services & Visa Expeditor Services.
Afghan CSS is a registered company with Afghanistan Government. Afghan Compound Support Services referred to hereinafter as Afghan CSS or ACSS is 100% Afghan-owned entity with international staff helping out in various areas.
Afghan  CSS  offers  turn-key,  Construction & Logistic  supplies,  shipping  and  cargo services, vehicle supplies as  well as Visa Expeditor Services.  The company has gained vast experience in Construction & Logistic supplies & Services through working with different clients mainly US Army Corps of Engineers (USACE), USAID, UNAMA, EUPOL, DynCorp, Fluor  International, Ecologe, Kallita Air LLC, Serka Construction & Afghanistan Government (MOD, MOI, ETC)  and other concerned organizations.
We believe the success of our organization lays in our devotion to understanding and meeting our clients' requirements for safety, workmanship, on-time delivery and value for-money. Afghan Compound Support Services (Afghan CSS) has a proven reputation for delivering tasks of which we and our clients can be proud. The industry awards that we have received and our award winning buildings are a testimony to this.
Afghan CSS is an equal opportunity provider and recruited with the most qualified staff in different fields to ensure our valuable costumer's satisfaction through quality and on – time services by accomplishing the assigned work in total conformance to the given specifications, budget allocated and work schedule.
Due to the outstanding performance being responsive and cooperative with the client the company has received more projects/awards. ACSS leadership is thankful to its professional, honest, and hardworking employees, who are essential to making the company as one of the leading construction and logistics firm in the country and the region.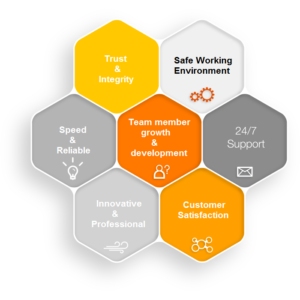 Trust & Integrity
Accountability
Quality Workmanship
Cost-efficient
Customer Satisfaction
Safe Working Environment
Team member growth
development
Adaptive
Customer- oriented
Speed and Reliable
Innovative & Professional